About Us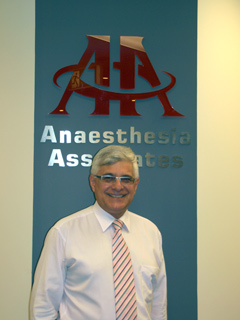 "Anaesthesia Associates" is the trading name of The Hills Anaesthetic Group.
It was formed in 1997 when four specialist anaesthetists - Dr Michael Levitt, Dr Reg Cammack, Dr Murray Selig and Dr Amarjit Sandhu - recognizing the need for an anaesthetic group practice in the rapidly growing west and north-west areas of Sydney, founded the group.
Initially formed with four members, and buying rooms in the Hills Private Hospital Medical Centre, Anaesthesia Associates has gone from strength to strength and continues to grow and expand.
Now based within the Norwest Private Hospital campus in Bella Vista, members provide anaesthesia, obstetric anaesthesia and pain management services to most private hospitals and several public hospitals in the greater Sydney area.
The members of Anaesthesia Associates are highly qualified, skilled and experienced specialist anaesthetists with both local and overseas training. Anaesthesia and pain management services are provided by members to over 200 surgeons and other specialist medical providers in Sydney.